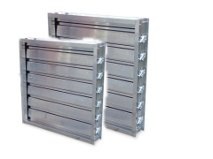 Mycadvance company is specialized in manufacturing of Air-foil Aluminum Volume Control Damper. It locates in the great Toronto area, Ontario, Canada. It serves Canada and North America. It deliveries top level quality and most reliable damper products. The dampers are constructed from high quality aluminum extrusions. The silicone frame seal and blade seal give them tight seal but smooth operation. They are ideal for air duct zone control system and ventilation fresh-air/return-air control.

Mycadvance offers various damper sizes, ranged from 4"x4" to 60"x60" with 4" depth frame and blades, and different blades orientations like parallel/oppose/face&bypass. Please send us your request drawings, and our Engineer will generate the final product drawings to and to meet your specializations.

We offer best prices to our customers. The damper price per unit depends on the size. Pease send us your damper sizes by W x H and blades orientations, we will give you our price and lead time.

We appreciate any request from you, and your satisfactory is our goal.